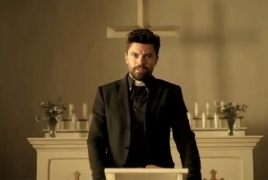 November 2, 2015 - 13:33 AMT
PanARMENIAN.Net - AMC has released the first promo for its new series "Preacher" after sharing the first footage in a teaser. Debuted during the latest episode of "The Walking Dead", the video sees Dominic Cooper's titular character, Jesse Custer, talking to a kid who wants the Preacher to "hurt" his abusive father, AceShowbiz reports.
Jesse warns the boy about the potential repercussion if he takes action against his father and he scares the kid in the process. Meanwhile, the scenes show Jesse involved in a brawl and another guy in separate violent fight scene. At the end of the video, Jesse ends up getting himself into prison.
From executive producers Seth Rogen and Evan Goldberg, "Preacher" is adapted from Garth Ennis and Steve Dillon's cult 1990s comic book series of the same name. It follows Rev. Jesse Custer, "a tough Texas preacher who has lost his faith, has learned that God has left Heaven and abandoned His responsibilities. He finds himself the only person capable of tracking God down, demanding answers, and making Him answer for His dereliction of duty."
He's accompanied by Tulip O'Hare (Ruth Negga), his beer-guzzling vampire ex-girlfriend, on his quest for answers. His enemies include the Catholic Church, mysterious government operatives, and the immortal "Saint of Killers," released from heaven to hunt this rogue preacher down.
Lucy Griffiths plays Emily Woodrow, a church organist and Jesse's loyal right hand, Joseph Gilgun stars as Irish vampire Cassidy, and Ian Colletti stars as Eugene Root a.k.a. Arseface.
The supernatural thriller is set to premiere in 2016, but the exact date has yet to be announced.