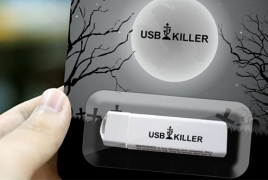 November 9, 2015 - 17:25 AMT
PanARMENIAN.Net - Now here's an overzealous approach to PC security - frying your USB port with volts of electricity, Digital Spy said.
"That's the sole purpose of USB Killer, a dongle accessory that we were hoping was some kind of joke.
But, no, the Russian outfit behind the device is deadly serious about its potential for thwarting data thieves and saving your skin in other situations.
Just take a look at this example they give: "Your wife is cleaning the apartment one day and finds a USB drive full of photos you would rather her not to see. It's only a matter of seconds before she gets to the computer to insert the stick; however, you act faster, and use your USB Killer before she arrives. The USB drive is broken and unusable now."
If you ever find yourself in the above scenario, you probably have more pressing concerns than PC security, like the state of your marriage.
USB Killer also comes with a warning that motherboard damage is a possibility, which effectively makes it a self-destruct button for your PC.
You'd have to be really worried about data theft to back this accessory on Indiegogo, but at least businesses could use it to decommission old machines," Digital Spy said.