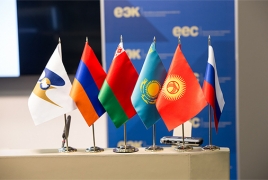 November 17, 2015 - 13:17 AMT
PanARMENIAN.Net - Minister of Integration and Macroeconomics of the Eurasian Economic Commission, Tatyana Valovaya hailed the cooperation between the EEU and Mongolia on the sidelines of the November 12-13 working visit to the country.
At the meeting with Mongolian officials, Valovaya said: "Half a year has passed since our first meeting and the signing of a memorandum on the formation of a joint working group, testifying to our mutual interest in developing cooperation."
Together with the Mongolian Minister of Industry Dondogdorj Erdenebat, Valovaya held the first meeting of the Working Group for Cooperation between the EEC and the Government of Mongolia.
The Mongolian officials reaffirmed the country's interest in enhancing trade and economic cooperation with the EEU states, increasing exports of traditional Mongolian goods to the Union members, also dwelling upon the problems with the export of local products to the EEU market.
The Eurasian Economic Commission, in turn, expressed willingness to promote within their competence the development of trade and economic cooperation between Mongolia and the EEU, carefully examine the proposals of the Mongolian colleagues on the development of such cooperation.
The Eurasian Economic Union is an economic union of states located primarily in northern Eurasia. A treaty aiming for the establishment of the EEU was signed on May 29, 2014 by the leaders of Belarus, Kazakhstan and Russia, and came into force on January 1, 2015. Treaties aiming for Armenia and Kyrgyzstan's accession to the Eurasian Economic Union were signed on October 9, 2014 and December 23, 2014, respectively. Armenia and Kyrgyzstan's accession treaties came into force on January 2, 2015 and August 6, 2015.