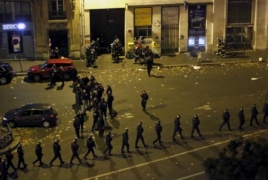 November 19, 2015 - 18:41 AMT
PanARMENIAN.Net - The Belgian extremist suspected of masterminding the deadly attacks in Paris died a day ago along with his female cousin in a police raid on a suburban apartment building, French officials said Thursday, November 19, adding it was still not clear exactly how he died, the Associated Press reports.
The body of Abdelhamid Abaaoud, 27, was found in the building targeted Wednesday in the chaotic, bloody raid in the Paris suburb of Saint-Denis and was identified based on skin samples, the Paris prosecutor's office said Thursday.
Interior Minister Bernard Cazeneuve said France did not know before last week's deadly attacks that Abaaoud was in Europe, but said he was believed to be behind four of six attacks thwarted since spring by French authorities.
Three police officials have told The Associated Press that a woman who died in the police raid was Abaaoud's cousin. One said the woman, Hasna Aitboulahcen, is believed to have detonated a suicide vest Wednesday in the building after a brief conversation with police officers.
The official confirmed an audio recording, punctuated by gunshots, in which an officer asks: "Where is your boyfriend?" and she responds angrily: "He's not my boyfriend!" Then loud bangs are heard.
The bodies recovered in the raid were badly mangled, with part of Aitboulahcen's spine landing on a police car, slowing down the identification process, according to one of the officials.