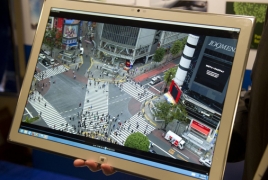 November 26, 2015 - 12:38 AMT
PanARMENIAN.Net - When Panasonic's 20-inch, 4K Toughpad tablet arrived to CES 2013, there was nothing even remotely like it on the market. The company did have a method to its madness, however, positioning the then-$6,000 tablet as a bulletproof, strictly-business tablet aimed at industrial CAD designers and graphics pros. It has now updated the Windows 10 Pro device with specs better suited to its price, and aimed it at a new, deep-pocketed market: cinema companies, Engadget reports.
The $4,229 FZ-Y1D Toughpad model now has HDMI 2.0 input, and thanks to Panasonic's proprietary software, can function as a Digital Cinema 4K (4,096 x 2,160, 60fps) monitor for cameras like Red's Raven.
It can quickly switch from monitoring to video editing or graphics chores, thanks to a fifth-gen Intel 5600U processor -- though folks paying $4,000-plus may have preferred more recent sixth-gen "Skylake" models. Panasonic also changed the discreet graphics from NVIDIA to a professional AMD FirePro M5100 graphics chip. The Toughpad retains its original reinforced chassis suitable for humid and dusty environments, though we'd still not recommend dropping the five-pound-plus device on the pavement. If all this is in your wheelhouse, the Windows 10 pro version of the FZ-Y1D arrives in a few days for $4,229.