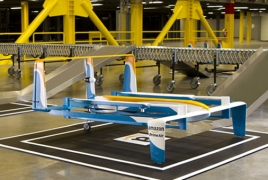 November 30, 2015 - 16:19 AMT
PanARMENIAN.Net - Amazon.com has teased a new drone design that takes off and lands vertically like a helicopter but flies like an airplane, PCWorld reports.
The video of the delivery drone is being released nearly two years after Amazon released a video to announce that it intended to use drones to deliver parcels through a new service called Prime Air.
But the drone showcased in the video posted on Sunday, November 29, is quite different from the one it showed off previously. The new drone, for example, carries the parcel in its fuselage rather than below the drone.
The new hybrid drone rises vertically to nearly 400 feet and then takes a horizontal orientation to become a streamlined and fast airplane, according to the Amazon video. The device lands vertically, drops the package at the destination, and then again rises up vertically. The user in the video is alerted on a tablet about the delivery.
The new drone can fly up to 15 miles (24 kilometers) and is able to "sense and avoid" obstacles both on air and on land. Amazon said in its FAQ that it has more than a dozen prototypes that it has developed in its research and development labs. The online retailer has Prime Air development centers in the U.S., the U.K. and Israel, and is testing the vehicles in multiple international locations.