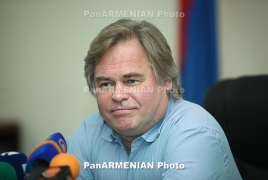 November 30, 2015 - 18:02 AMT
PanARMENIAN.Net - Kaspersky Labhas launched a conference at Yerevan's European Regional Academy (ERA) as part of a series of New Generation seminars, Panorama.am reports.
The initiative is set to continue on November 30 and December 1 at the National Polytechnic University of Armenia, Russian-Armenian (Slavonic) University and Yerevan State University.
According to the winner of Armenia Presidential award and chief of Kaspersky LabEugene Kaspersky, "Armenia has real opportunities for future development of IT sector. The country has to produce more specialists through advanced educational and university programs."
According to the Kaspersky Lab regional representative Armen Karapetyan, the seminars aim to pass on topical knowledge to future IT and computer security specialists.
The Deputy Chief of Global Center of Research and Threats Analysis, chief of Kaspersky Laboratory's Russian Research Center and initiator of Security Analyst Summit Sergey Novikov will be speaking on the following topics at the conference:
1. Introduction. About the company. Main trends of IT development;
2. Computer threats. Yesterday, today, tomorrow;
3. Protection of personal data (Privacy). Advice and recommendations.
The expert was also participating in the Q&A session on the sidelines of the ERA seminar.