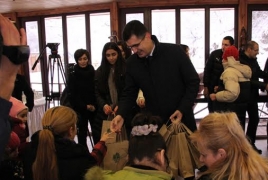 December 4, 2015 - 10:38 AMT
PanARMENIAN.Net - On the International Day of People with Disabilities on December 3, the Foundation for the Preservation of Wildlife and Cultural Assets (FPWC) and its General Partner VivaCell-MTS hosted children with disabilities and their parents at a Hippotherapy Center in Yerevan Zoo hippodrome.
Having opened the first inclusive playground in Zoo in June, FPWC-VivaCell-MTS-Yerevan Municipality tripartite partnership launched a series of multi-component events, aiming to integrate children with disabilities.
"Unfortunately, the bond between humans, nature and wildlife has almost disappeared nowadays, yet harmony with the surrounding world is the guarantee of an individual's spiritual and physical health," VivaCell-MTS General Manager Ralph Yirikian said.
"The positive impact of contact with animals has long been proved by scientists, hippotherapy having a special role in the treatment of children with special needs."
Launched on October 1, the Hippotherapy Program is a variety of therapeutic physical training, a form of rehabilitation, achieved through contact with horses and riding. In the last decades, hippotherapy has been recognized as the world's most efficient method of rehabilitation for people with various disabilities.
Since the launch of the initiative, dozens of children with disabilities involved in this program have had an opportunity to participate in free hippotherapy and riding courses twice a week, feeding and taking care of the horses on other days.
One of the main advantages of this program is its location. Unlike other hippotherapy centers, located, as a rule, outside the city, the hippodrome in Yerevan Zoo is much more accessible.
Over three dozen children have participated in this program. Taking into account the importance of this program and the number of new children registered, the initiators have decided to continue the project.