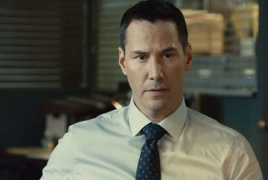 December 4, 2015 - 12:40 AMT
PanARMENIAN.Net - A new trailer for crime thriller "Exposed" has arrived online. Keanu Reeves stars as a detective named Scott Galban, who is tasked with finding out the truth behind his partner's untimely death, AceShowbiz reports.
Ana De Armas also stars as a young Latina woman who appears to be the key to solve the mystery. The two-minute trailer opens with De Armas' character experiencing strange visions of how the said man died. She sees the man sprawling on a train rail with a knife stuck on his back.
As Galban tries to calm down his partner's grieving widow (Mira Sorvino), he starts an investigation to solve the case. However, no one is willing to help him. "You're coming to my house telling me that you're not gonna go after his killer? You're pathetic," the widow says to Galban.
According to the official synopsis, "when a detective starts to investigate his partner's shocking death, he uncovers disturbing evidence of police corruption and a dangerous secret involving an unlikely young woman."
Christopher McDonald, Big Daddy Kane, Michael Rispoli and Laura Gomez are also in the cast. Directed by Gee Malik Linton, "Exposed" will have a limited release in the U.S. on January 22, 2016.