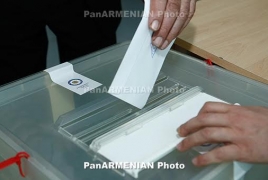 December 6, 2015 - 08:44 AMT
PanARMENIAN.Net - Armenia is voting on amendments to Constitution today, December 6.
1997 polling stations opened across the republic at 8 am local time, set to close at 8 pm. The total number of voters is 2 550 323.
18 local and 6 international organizations are monitoring the referendum, including: CIS observer mission, CIS Interparliamentary Assembly, foreign Central Election Committees, Parliamentary Assembly of the Council of Europe (PACE), OSCE Office for Democratic Institutions and Human Rights (ODHIR), representatives of foreign embassies accredited to Armenia.
The December 6 referendum is the third one in the history of independent Armenia, seeking a transition from the semi-presidential system of government to a parliamentary one.
The amended version of the Constitution would increase the role of the National Assembly, government and Prime Minister and essentially curtail the president's powers. Other changes include elimination of majoritarian voting system and full transition to proportional system of forming a parliament.
The most controversial is the provision envisaging compulsory formation of majority of one of political parties in parliamentary elections and holding a second round in case no majority is formed. Represented in the National Assembly, Heritage, Rule of Law and Armenian National Congress parties are against the amendments, while the ruling Republican, as well as Armenian Revolutionary and Prosperous Armenia parties are in favor of changes. Some political powers, including MP Nikol Pashinyan's Civil Agreement, have declared their intention to not participate in the discussions and reforms.