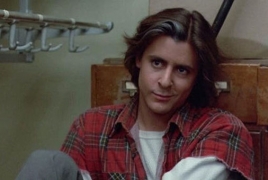 December 7, 2015 - 17:27 AMT
PanARMENIAN.Net - Judd Nelson is returning to familiar turf, joining Ansel Elgort, Taron Egerton and Kevin Spacey in the movie remake of "Billionaire Boys Club", Variety has learned exclusively.
Nelson will portray Ryan Hunt, the father of Elgort's Joe Hunt. He originally played Joe Hunt in the 1987 TV mini-series.
Egerton is playing tennis pro Dean Karny while Spacey is portraying Ron Levin. Suki Waterhouse and Emma Roberts have been cast the as the love interests of Karny and Hunt.
The film will follow the rise and fall of Hunt and Karny, who ran a Ponzi scheme called the Billionaire Boys Club in the early 1980s. The scheme collapsed when Levin's investment turned out to be worthless.
Hunt turned to murder to raise funds and was convicted in 1987 of killing Levin. Karny served as the state's witness in the trial.
James Cox ("Wonderland") is directing from a script he co-wrote with Captain Mauzner.
The project, produced by Holly Wiersma and Cassian Elwes, is being financed by Armory Films with its principals Tim Zajaros and Chris Lemole executive producing. Crystal Lourd, Jere Hausfater and Logan Levy will also executive produce.
Good Universe launched international sales at the American Film Market.
Nelson is best known for his roles in "The Breakfast Club," "St. Elmo's Fire," "Transformers: The Movie" and "Transformers: Animated." He plays the Billy Beretti role in "Empire."
NBC's "Billionaire Boys Club" miniseries ran in 1987 and starred Nelson as Hunt, Ron Silver as Levin and Brian McNamara as Karny.