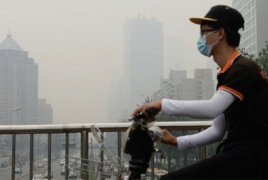 December 7, 2015 - 17:36 AMT
PanARMENIAN.Net - Schools in Beijing are to close and outdoor construction to stop after the Chinese capital issued its first "red alert" over smog levels, BBC News reports citing the state-run Xinhua news agency.
The red alert is the highest possible, and has not been used in the city before. Authorities expect more than three consecutive days of severe smog. Cars with odd and even number plates will be banned from driving on alternate days.
The alert comes as China, the world's largest polluter, takes part in talks on carbon emissions in Paris.
Current pollution levels in Beijing are actually lower than last week's, but the red alert has been placed because of levels expected over the coming days.
The order will last from 07:00 local time on Tuesday, December 8 (23:00 GMT on Monday) until 12:00 on Thursday, when a cold front is expected to arrive and clear the smog.
China's CCTV news channel reported at the weekend that some parts of Beijing had visibility of only 200m (660 feet).
Coal-powered industries and heating systems, as well as dust from construction sites, all contribute to the smog which has been exacerbated by humidity and a lack of wind.
At 18:00 local time (10:00 GMT) on Monday, the air pollution monitor operated by the US Embassy in Beijing reported that the intensity of the poisonous, tiny particles of PM 2.5 was 10 times above the recommended limit.
The level in Beijing reached more than 256 micrograms per cubic metre in some of the worst-affected areas. The World Health Organization considers 25 micrograms per cubic metre to be a safe level.