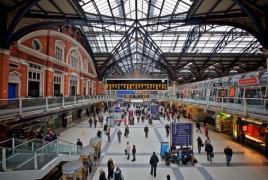 December 8, 2015 - 14:33 AMT
PanARMENIAN.Net - Liverpool Street station was evacuated Tuesday, December 8 morning after a false fire alarm was mistaken for a terrorist threat, Yahoo News reports.
Thousands of commuters who had arrived at the London station in peak rush hour rushed out onto the street after the alert was raised.
As they flooded to the exits, some claimed they heard passengers shout: "Terrorist activity."
However, any fears about a terrorist incident were soon quashed when a British Transport Police said the station would reopen soon, and that there was no cause for alarm.
They tweeted: "Liverpool Street closed due to a fire alert – no cause for alarm, the station will be reopening soon."
The reaction of commuters can no doubt in part be put down to the stabbing of a man at Leytonstone tube station over the weekend.
Muhyadin Mire yesterday appeared in court charged with attempted murder after he allegedly stabbed commuters while shouting. "This is for Syria."
This morning's panic also comes in the wake of the Paris terror attacks just a few weeks ago.