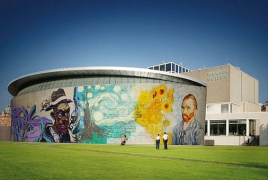 December 16, 2015 - 16:04 AMT
PanARMENIAN.Net - The Van Gogh Museum's anniversary year has ended with a record number of visitors. Worldwide, 1.9 million visitors came to the museum, a considerable number among them from the Netherlands. Since his death, 125 years ago, Van Gogh appears to be more relevant than ever. The museum drew a lot of attention with its public opening of the new glass entrance building and its well-received Munch: Van Gogh exhibition. "The interest in Van Gogh and our museum is overwhelming. Innumerable people from all over the world show in many different ways how Van Gogh is still an incredible source of inspiration. The cherry on the pie for me is that this results in a gradually increasing number of visitors. It is a wonderful finale of an eventful year", according to director Axel Rüger.
Compared with 2014, the number of visitors has increased by more than 18 % from 1.6 to 1.9 million. This increase can be attributed to an exceptional combination of factors: enormous worldwide attention and huge publicity for Van Gogh and the Van Gogh Year; the new entrance building; the exhibition programme; the successful online campaign; and the growing number of tourists that visit Amsterdam. Thanks to the new entrance and, consequently, the highly improved visitor logistics, the audience have indicated that they do not experience the museum as crowded once they are inside.
In September, a labyrinth of sunflowers was created to celebrate the opening of the new glass entrance building. In two days' time, more than 40,000 people visited the labyrinth and the new entrance. On Sunday 6 September, the public was invited to come and pick the sunflowers. Within 1.5 hours the labyrinth was emptied; 125,000 sunflowers were handed out and the whole area was dressed in yellow. By means of the periscope social media tool, online fans could walk through the labyrinth and virtually touch the sunflowers.
The number of visitors online has also increased. With an increase of 25%, the Van Gogh Museum website will have been visited by more than 2.5 million visitors this year. The website was awarded the Golden European Design Award and was granted silver for Best website during the presentation of the International Design and Communication Awards. The social network of the Van Gogh Museum has also increased considerably in 2015. The fan base on Facebook has increased from 500,000 to 800,000 likes, on Twitter from 100,000 to 145,000 and 5.2 million Van Gogh fans follow the museum via Google+. Furthermore, the number of followers on Instagram has also increased from 5,000 to 33,000.