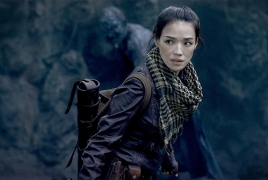 December 22, 2015 - 12:38 AMT
PanARMENIAN.Net - As Star Wars: The Force Awakens wowed moviegoers worldwide last weekend, Chinese film fans turned out in droves for an adventure epic of their own: Mojin - The Lost Legend, The Hollywood Reporter said.
The movie, directed by Wuershan and stocked with A-list Chinese stars, grossed $92 million from Friday to Sunday, the third-best opening weekend ever for a Chinese film, according to data from Ent Group. Mojin set a slew of additional local records, including the biggest opening day for a 3D Chinese film ($26.4 million on Friday) and the largest single-day gross for a local 3D title ($35.5 million on Saturday).
Co-produced and distributed by heavyweights Wanda Pictures, Huayi Brothers and Enlight Pictures, Mojin is an adaptation of Ghost Blows Out The Light, a fantastically popular Chinese online novel about the adventures of a young team of tomb raiders (Lu Chuan's summer hit Chronicles of the Ghostly Tribe was based on the same source material).
Mojin won't face any competition from Hollywood until Force Awakens' release on Jan. 9, thanks to China's year-end blackout on foreign film imports. With its starry cast — Huang Bo (Lost in Thailand), Shu Qi (The Assassin), and Angelababy (Young Detective Dee) — and warm critical reception (the film has scored 8.0 and 7.7, respectively, on leading reviews sites Douban and Mtime), many local industry watchers are predicting that the film has a solid chance of unseating Monster Hunt as the highest grossing movie ever in China.