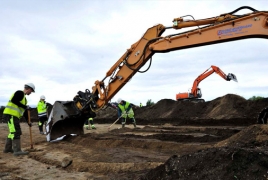 December 25, 2015 - 17:24 AMT
PanARMENIAN.Net - An airbase designed to accommodate Norway's new fleet of F-35 jet fighters was once an Iron Age Viking settlement, dating back some 1,500 years, archaeologists have discovered, according to RT.
The ancient village was unearthed as experts from Norway's NTNU University Museum in Trondheim examined the strategic site on Orland peninsula. Norwegian law requires a preliminary archaeological study of any site before construction works begin.
"It was a sheltered area along the Norwegian coastal route from southern Norway to the northern coasts. And it was at the mouth of Trondheim Fjord, which was a vital link to Sweden and the inner regions of mid-Norway," Ingrid Ystgaard, project manager at the Department of Archaeology and Coastal History at the NTNU University Museum, told Gemini.no, which breaks science news from the NTNU.
Because of its strategic location, Orland has long had a reputation as a potential treasure trove of discoveries. Archaeologists just couldn't wait for an opportunity to check it out. When Oslo said it planned to purchase fifty-two new F-35 fighter jets, which need new accommodation facilities at Orland, archaeologists greeted it as good news.
Carefully removing the soil, centimeter-by-centimeter, while surveying a huge area of about 91,000 square meters (roughly the size of two shopping malls), the researchers unearthed post holes for three large "longhouses" arranged in a U-shape, where Vikings may have gathered. One of the longhouses contained several fire pits, at least one of which was clearly used for cooking, according to the researchers. Other fire pits may have provided light for handwork, or for heating the longhouse.
Archaeologists expect there are graves too, and a harbor with boat houses somewhere around.
"There was a lot of activity here," Ystgaard said of the site.
Where there's activity, there are garbage dumps (called 'middens' in the trade.)
It takes some really tough trash to survive 1500 years, archaeologists say. Mostly, what they found were beads, glass and metal objects, and ceramics.
"Most of the time we don't even find middens at all on sites that are older than the mediaeval period," Ystgaard said.
The middens have already proved to be full of pleasant surprises. One was a delicate blue glass bead and several amber beads, suggesting the Vikings loved their bling too. Another was the remains of a green drinking glass that was characteristic of imports from the Rhine Valley in Germany, according to archaeologists. It's also a testament to how well off the former residents of the area were, Ystgaard noted. "It says something that people had enough wealth to trade for glass."
"We're really able to put things in context because the area is so big," Ystgaard said. The archaeologists will be working on the site through the end of the 2016 field season.
The team also found a quantity of old animal and fish bones – mainly because the soil in the area is made from ground-up seashells, which isn't very acidic, they said. Normally, soil in Norway tends to be more acidic, and eats away at bones, researchers explained. The archaeologists also found fish remains, from both salmon and cod, and bones from seabirds.
"Nothing like this has been examined anywhere in Norway before," Ystgaard said.