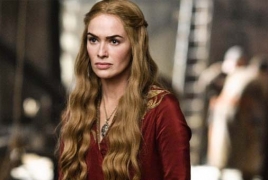 December 28, 2015 - 10:27 AMT
PanARMENIAN.Net - "Game of Thrones" continuously affirms itself as one of the most watched shows nowadays. The HBO series is named the most pirated TV show in 2015, nabbing the honor for the fourth year in a row, AceShowbiz reports.
The fifth season finale of the medieval drama was illegally downloaded 14.4 million times, according to the piracy tracking site TorrentFreak. It easily beats another hit show, "The Walking Dead", with 6.9 million downloads for an episode.
HBO had actually taken actions to reduce piracy of "Thrones" this year by airing episodes of season 5 on the same date worldwide. The premium cable channel also launched HBO Now which allows viewers to subscribe to the network without a cable subscription.
However, there was another major blow when the first four episodes of the season leaked online before the season premiere. The uploaded content was from the DVD screeners sent out to critics for review. HBO has since shifted to an online preview screening system to prevent similar case in the future.
Still, the piracy didn't hurt the viewership number on HBO. "Thrones" currently holds record ratings with around 20 million viewers per episode when all forms of legal viewing are counted.
Back to TorrentFreak's list, CBS' hit comedy "The Big Bang Theory" places third with 4.4 million downloads for one episode. The CW's "Arrow" is the fourth most pirated show with 3.9 million illegal downloads, while "The Flash" rounds out the top 5 with 3.6 million downloads.
Top Ten Pirated TV Shows in 2015:
"Game of Thrones" - 14.4 million "The Walking Dead" - 6.9 million "The Big Bang Theory" - 4.4 million "Arrow" - 3.9 million "The Flash" - 3.6 million "Mr. Robot" - 3.5 million "Vikings" - 3.3 million "Supergirl" - 3 million "The Blacklist" - 2.9 million "Suits" - 2.6 million