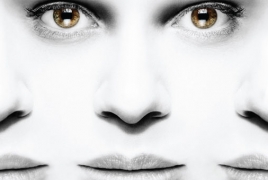 December 29, 2015 - 11:00 AMT
PanARMENIAN.Net - "Orphan Black" will introduce a new clone when it returns for a new season in 2016. The new character gets the spotlight in a new teaser for season 4 released by Space Channel, the Canadian broadcaster that airs the show, AceShowbiz reports.
In the video, she's seen running in the woods wearing a sheep mask. In one of shorter snippets debuted prior to the full teaser, she's removing her mask but her back faces the camera.
It's revealed that the new clone, played by none other than Tatiana Maslany, is named M.K. Co-creator John Fawcett describes the character as "a slightly traumatized clone who has a deep past" and "a 'Deep Throat' kind of character."
EW has also obtained photos of M.K. Co-creator Graeme Manson tells the site, "She comes out of the shadows and for the first time we're meeting someone who knows more than us. Sarah is meeting a clone who has got more answers than she does, and yet she's a slippery character."
Fawcett adds that M.K. is "very elusive," "quite highly skilled and very smart." She "is helpful in some ways to Sarah, but there is a little bit of a dangerous side to M.K. as well." Fawcett also explains that M.K. is mysterious due to the fact that "she's very paranoid" and "very security conscious."
"She knows more than Sarah does so she knows how dangerous the whole thing is," Fawcett further shares. "She's purposefully avoided contact with the sisters to keep herself safe, and Sarah is now trying to draw her out of the shadows and trying to utilize the information that she has so that Sarah can follow her own mystery and fill in the blanks and protect Alison and protect Cosima from Neolution. But this girl is very unwilling."
As for the sheep mask, Fawcett says it's "Dolly the sheep." He says of the mask choice, "We wanted it to be spooky but kind of childlike at the same time. We wanted a little balance."
The fourth season of "Orphan Black" will premiere in April 2016 on BBC America.