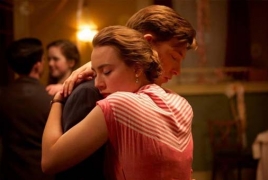 January 8, 2016 - 15:02 AMT
PanARMENIAN.Net - "The Big Short," "Brooklyn," "The End of the Tour," "The Martian" and "Room" have been nominated for the USC Libraries Scripter Award, an honor that goes to both the writer of an adapted screenplay and the author of the original work on which the script was based, TheWrap reports.
In television awards, a new category for the Scripter, nominations went to episodes of "Game of Thrones," "The Leftovers," "The Man in the High Castle" and "Masters of Sex," as well as the miniseries "Show Me a Hero."
The nominees were chosen by a jury of writers, filmmakers, journalists and academics.
"Room" was the only film with a single credited writer, as original author Emma Donoghue adapted her own novel for the screen.
"The End of the Tour" was the biggest dark horse on the list of nominees, while "Steve Jobs" and "Carol" were the most surprising omissions. Other films that could have qualified include "Trumbo," "The Revenant" and "The Danish Girl."
The Scripter Award has been handed out by the Southern California university since 1988, beginning as an idiosyncratic honor with a literary bent. In recent years, though, it has closely paralleled the Oscar race for Best Adapted Screenplay, with the same screenplay winning both awards for the last five years in a row.
Last year, three of the five Scripter nominees went on to receive Oscar nominations in the Best Adapted Screenplay category, with "The Imitation Game" winning both awards.
Over the last 15 years, 46 of the 75 Scripter Award nominees have gone on to receive Oscar nominations.
The 2016 USC Libraries Scripter Award ceremony will take place on Feb. 20 in the Edward L. Doheny Jr. Memorial Library on the USC campus in downtown Los Angeles and will also be a fundraiser for the USC Libraries.