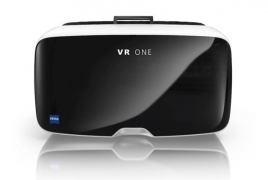 January 11, 2016 - 14:18 AMT
PanARMENIAN.Net - NASA has turned out to be an early adopter of the PlayStation VR headset as the space agency is using the virtual reality device to train its astronauts, Digital Spy reports.
The U.S. firm has created Mighty Morphenaut, a VR simulation for the Sony wearable that lets space explorers practise operating a robot in zero gravity.
As you can probably imagine, controlling robotic equipment like mechanical arms in this kind of environment is tricky, but NASA's VR application lets astronauts master the art before they head off into space.
"The hope is that by putting people in an environment where they can look around and move in ways that are much more intuitive than with a mouse and keyboard, it would require less training to understand how to operate the robot and enable quicker, more direct control of the motion," NASA software engineer Garrett Johnson told Road to VR.
NASA believes that the PlayStation VR simulation can also be used to help astronauts anticipate the motion of floating objects in zero gravity and provide live feeds to robots in space.
This is not the first time NASA has turned to high-tech headsets to further its research, with the firm also using Microsoft's HoloLens to carry out augmented reality experiments.