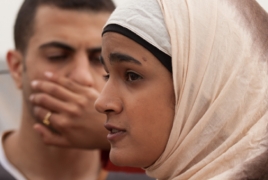 January 11, 2016 - 18:17 AMT
PanARMENIAN.Net - Beta Cinema has picked up sales rights to Sundance and Berlin entry Sand Storm by Israeli director Elite Zexer, Deadline reports.
The film is produced by 2-Team Productions, who won the Venice Public Choice award with The Farewell Party. Sand Storm, shot in Arabic, takes place in a Bedouin village in southern Israel. Jalila finds herself in the awkward position of hosting her husband Suliman's marriage to a second, much younger wife. During the celebration, Jalila stumbles across eldest daughter Layla's involvement with a boy from her university—a strictly forbidden liaison that would shame the family. Burying the indignity of Suliman and his new bride living next door, Jalila also tries to contain Layla's situation by clamping down on her. But younger and possessed of a boundless spirit, Layla sees a different life for herself.
The film is the second partnership between Beta and 2-Team Productions' Haim Mecklberg and Estee Yacov-Mecklberg after the two worked together on The Farewell Party. The film was awarded the top award at the Locarno Festival's works-in-progress section.
"Sand Storm is 87 minutes, but for me, it's years, said Zexer. "Years of an amazing ride, of passions, of struggles, of ups, of downs, of pure joy, of forever waiting or of an impossible run. Years of creation. What I learned during the making of this film is that the most wonderful part of filmmaking is the making. It's hard to part with it and let it run loose in the world. But it's also very exciting. I can't wait."