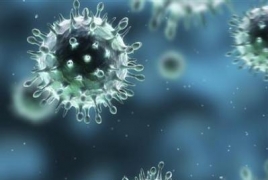 January 12, 2016 - 17:39 AMT
PanARMENIAN.Net - A 35-year-old Armenian woman died of H1N1 swine flu on Tuesday, January 12 in one of Yerevan's medical centers. The woman was hospitalized in critical condition and immediately taken to the hospital's intensive care unit.
6 patients have earlier died from the virus, three of them in December 2015.
The Ministry of Health issued a statement on Tuesday, stating that respiratory infections and other diseases have started receding.
Influenza and acute respiratory infections raise no concerns in Armenia, Deputy Minister of Health told a press conference Monday.
Addressing the mass media representatives, Vahan Poghosyan urged them not to panic.
There is a seasonal rise in diseases due to the cold weather and increased contacts during the New Year holidays, the Deputy Minister said.
He assured those present that monitoring is conducted every day, all patients being under constant supervision.
The head of the National Center for Disease Control and Prevention of the Ministry of Health Artavazd Vanyan presented some statistical data suggesting that 855 people are now receiving inpatient treatment in Armenian medical centers after being diagnosed with acute respiratory infections; 170 of them were infected with H1N1 swine flu.
77 patients are in intensive care units, 11 of them placed on a ventilator. Vanyan noted that 4 of the aforementioned 11 people have swine flu. 101 pregnant women have been hospitalized; 37 of them were diagnosed with pneumonia.