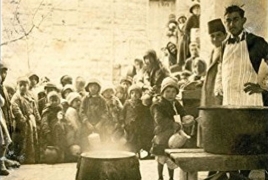 January 13, 2016 - 09:02 AMT
PanARMENIAN.Net - Historian Keith David Watenpaugh will present a talk in connection with his most recent book "Bread from Stones: The Middle East and the Making of Modern Humanitarianism", on Jan 28 at the National Association for Armenian Studies and Research (NAASR) Center, Belmont.
The lecture will be co-sponsored by NAASR and the Strassler Center for Holocaust and Genocide Studies at Clark University, the Armenian Weekly reports.
Bread from Stones (University of California Press, 2015) breaks new ground in analyzing the theory and practice of modern humanitarianism. Genocide and mass violence, human trafficking, and the forced displacement of millions in the early 20th century Eastern Mediterranean form the background for this exploration of humanitarianism's role in the history of human rights.
Centering the international response to the genocide of the Ottoman Armenians in the history of humanitarianism and human rights, Watenpaugh explores how organizations like Near East Relief and the rescue of a generation of trafficked Armenian children helped lay the foundations of the Diasporan Armenian community.
Keith David Watenpaugh is a historian and professor of Human Rights Studies and director of the UC Davis Human Rights Studies Program. He is the author of Being Modern in the Middle Eastand has written articles for the American Historical Review, the International Journal of Middle East Studies, Social History, and Middle East Report.