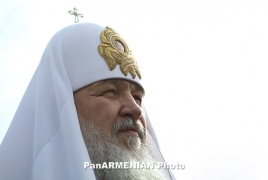 January 15, 2016 - 15:52 AMT
PanARMENIAN.Net - Public Council of Armenia is waiting for clarification on Patriarch Kirill's statement on the genocide against Christians in Turkey which caused a great stir in Armenia.
The Patriarch raised some eyebrows in Armenia when he discussed the plight of shrinking Christian communities in the Middle East in a weekend interview with Russian state television. In a clear reference to atrocities committed by Islamist militants, he said Christians in the region are being subjected to genocide.
"Nothing similar to the current events had ever happened in the Islamic world," Kirill said, adding: "Take, for example, the Turkish, Ottoman Empire. Yes, there were Christian minorities there but they were not exterminated."
"We watched Patriarch Kirill's interview with huge bewilderment," the president of the association For Sustainable Human Development, Karine Danielyan said. "In response to a question on the essence of the Middle East conflicts, he, as a negative example in the history of relations between Christian and Muslim civilizations, cited the conquest of Christian Byzantium by Muslims. In doing so, however, the Patriarch forgot to mention the ethnicity of those Muslims."
Members of the Public Council expressed hope that the announcement is a misunderstanding rather than a tribute to short-term political interests.
"We are glad that that Russian political leadership doesn't follow such an interpretation of facts, as evidenced by the Armenian Genocide recognition, as well as President Vladimir Putin's participation in commemorative ceremonies in Yerevan," the Council's application reads.