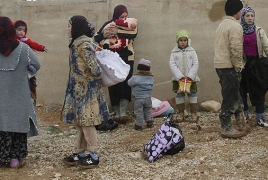 January 23, 2016 - 11:44 AMT
PanARMENIAN.Net - Syrians living in Turkey will be offered training before beginning to work in line with a new regulation which allows many of the 2.5 million Syrian refugees in the country to apply for work permits, Turkish government officials have said, according to Hurriyet Daily News.
Accordingly, Syrians will be trained for a period of time from two months to four months, Murtaza Yetiş, a chief advisor for Prime Minister Ahmet Davutoğlu, said.
"Turkey lacks intermediate staff. Although there is a monthly employment deficit of 180,000 jobs, there are professions which nobody applies for. An arrangement will be made along with İŞKUR [the state's employment agency] and Syrians who get their work permits will be settled particularly in provinces where there it's hard find intermediate staff. Syrians who don't attend training will not be able to start working," Yetiş said earlier this week, while noting the financing for the training programs would be jointly supplied by Turkey and international organizations.
Syrian citizens who have medical or academic professions will be exempted from training and will be able to offer services to other refugees.
"Syrian teachers will implement the curriculum being taught in Syria. Turkish will be taught separately as a language course," Yetiş said. "Syrian children need to be taught by Syrian teachers. We will provide this along with UNICEF," he added.
According to a report released by the Human Rights Watch in November 2015, more than 400,000 Syrian refugee children living in Turkey were not attending school. Of the Syrian refugees living in Turkey, 708,000 were school-aged children. In 2014-2015, just over 212,000 were enrolled in formal education at the primary and secondary levels, based on Education Ministry data.