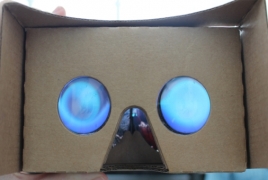 January 26, 2016 - 13:55 AMT
PanARMENIAN.Net - The latest slew of virtual reality job postings from Google suggests the company is working on dedicated consumer VR hardware that will be manufactured at large scale, Road to VR reports.
For some time now it's been clear that Google is excited about virtual reality. The company's Cardboard initiative has put low cost smartphone VR viewers into the hands of millions, and begun to introduce the Android ecosystem as a place to find entry-level VR experiences.
But the current state of Cardboard virtual reality is substantially lacking compared to the leading mobile experience pioneered by Samsung's Gear VR headset. Gear VR sets the bar with a combination of the headset—which features on-board hardware to improve performance—as well as custom software-side development which unlocks the full power of the hardware found in Samsung's Gear VR compatible phones.
The difference between Gear VR and the stock Android VR experience is stark, but it likely won't remain that way for long. Google has every incentive to leverage their Android ecosystem to be the go-to place for virtual reality, establishing themselves before Apple jumps into the ring.