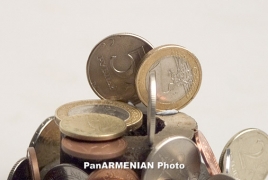 February 2, 2016 - 13:47 AMT
PanARMENIAN.Net - The European Investment Bank (EIB) reports that it is lending € 51 million to Armenia to finance the rehabilitation of the country's strategic M6 interstate road, which serves as a transport corridor with Georgia, the Financial says.
The EIB funds will support the rehabilitation and upgrading of infrastructure along some 90 km of the road.
According to the EIB, the M6 rehabilitation will help cut travel time as well as improve traffic fluidity and levels of service between Armenia and Georgia. It is also expected to increase the overall road safety in the country.
EIB Vice-President László Baranyay, responsible for EIB operations in Armenia, commented that "this transport infrastructure serves as major link of Armenia with Europe and other countries of the Commonwealth of Independent States through Georgia's Black Sea ports carrying over 60% of Armenia's international traffic."