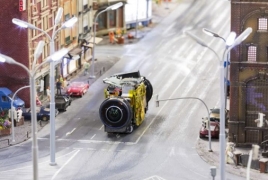 February 4, 2016 - 16:44 AMT
PanARMENIAN.Net - Google is experimenting with technology that brings interactive elements to your e-book experience to make it more immersive, Digital Spy reports.
The web giant is trialling its Editions at Play titles in Australia - and it sounds like Choose Your Own Adventure is getting a 21st century makeover.
Editions at Play are books specially designed for tablets and smartphones that use technology to add something extra to the reading experience.
For instance, the story could incorporate Google Street View to show the reader exactly what the protagonist is looking at.
There are two interactive books available at the moment: Reif Larsen's Entrances & Exits, which lets users explore story locations on Google Maps, and The Truth About Cats & Dogs, which gives readers the chance to experience the tale from two different perspectives.
Interactive fiction is nothing new - JK Rowling's Pottermore is just one example of an author turning to tech to offering these kinds of experiences - but Google wants to explore the concept further.
Two more Editions at Play books are coming in April, and the Android firm wants people to tweet concepts for future interactive titles.