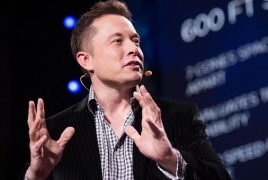 February 5, 2016 - 13:05 AMT
PanARMENIAN.Net - Electric airplanes are practically a non-existent technology, but that could change if Elon Musk decides to put money and energy behind the particular concept he's been mulling over for a number of years now, Engadget reports.
During a surprise question-and-answer session at the Hyperloop Pod competition awards ceremony at Texas A&M, the Tesla Motors and SpaceX CEO was asked, among a number of things, what his next great idea was.
"I have been thinking about the vertical takeoff and landing (VTOL) electric jet a bit more. I think I have something that might close. I'm quite tempted to do something about it," he said.
While the comment was brief, it did get an enthusiastic response from the crowd, and it is the first indication he might actually follow through on the idea.
He expounded, "If you're trying to create a company, it's important to limit the number of miracles in series. You want to start off with something that's the most doable, and then expand from there."
Besides electric airplanes, another possible transportation innovation Musk is mulling is tunnels. Lots and lots of tunnels – as in turning the underground of cities into a massive 3D maze.