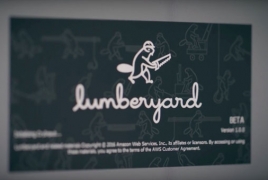 February 9, 2016 - 16:50 AMT
PanARMENIAN.Net - Amazon has launched a new free game engine named Lumberyard, the Verge reports.
The company says the software is capable of building triple-A games for PCs, consoles, mobile devices, and even VR platforms. And while it costs nothing to download and use, Amazon says it will make its money back by selling various additional web services to developers. The engine is "deeply integrated" with both Amazon Web Services, the company's cloud computing platform, and Twitch, the video streaming site it bought for $970 million in 2014.
The move is typical Amazon, bringing the company benefits at a number of different levels, and making third parties dependent on its services.
Developers build a game for free using Lumberyard, and when they want to add support for multiplayer or other connected services, they buy the server time from Amazon. Then, if they want to make live streaming easier for their game, why wouldn't they go with Twitch — the market leader and a service that's built directly into the software they're using.
And while Amazon stresses that developers don't have to buy server time from them, they're not allowed to use rival cloud services from companies like Google or Microsoft.