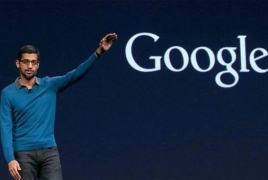 February 9, 2016 - 17:27 AMT
PanARMENIAN.Net - The chief executive of Google, Sundar Pichai, has been awarded $199m in shares, a regulatory filing has revealed, according to BBC News.
It makes him the highest-paid chief executive in the U.S.
Pichai became chief executive of the search engine giant following the creation of its parent, Alphabet.
The founders of Google, Larry Page and Sergey Brin, have amassed fortunes of $34.6bn and $33.9bn, according to Forbes.
Pichai, 43, was awarded 273,328 Alphabet shares on February 3, worth a total of $199m, according to a filing with the U.S. Securities and Exchange Commission.
The new award of shares takes Pichai's total stock value to approximately $650m, BBC says.
Pichai's share award will vest incrementally each quarter until 2019. In other words, full control over the shares will pass to him on a gradual basis.
The Google chief executive joined the company since 2004, initially leading product management on a number of Google's client software products, including Google Chrome] and Chrome OS, as well as being largely responsible for Google Drive. He also oversaw the development of Gmail and Google Maps.