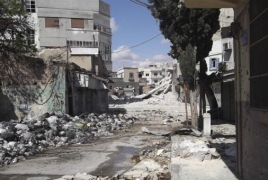 February 18, 2016 - 08:22 AMT
PanARMENIAN.Net - Trucks carrying humanitarian aid entered five besieged areas of Syria scheduled for deliveries on Wednesday, Feb 17, in a UN-backed deal to deliver help to thousands of trapped residents, the United Nations said, according to Reuters.
The Syrian government approved access to seven besieged areas after crisis talks in Damascus on Tuesday, a week ahead of a planned resumption of peace negotiations between Syria's warring parties.
The UN estimates there are 486,700 people in around 15 besieged areas of Syria, and 4.6 million people in hard-to-reach areas. In some, starvation deaths and severe malnutrition have been reported.
One hundred truckloads of aid were given to about 100,000 people, the UN said, as convoys entered Madaya, Zabadani and Mouadamiya al-Sham near Damascus which have been under siege by government forces, and the villages of al-Foua and Kefraya in Idlib province, which are surrounded by rebel fighters.
There have been several aid deliveries to Madaya and Zabadani and to al-Foua and Kefraya this year, but each has to be carefully synchronized between the warring sides so that convoys enter simultaneously.
The Syrian Red Crescent coordinated with the UN on the deliveries, which include wheat and high-energy foods, with medical teams being sent to some areas.
The world body has demanded unhindered access to all besieged areas of the country, where it says hundreds of thousands of people are trapped by fighting and deliberate blockades by various warring sides.
A humanitarian task force will meet in Geneva on Thursday to take stock of access to besieged areas, a statement from the office of the special envoy for Syria, Staffan de Mistura, said. That was in line with an agreement on humanitarian assistance reached in Munich last week by major and regional powers.