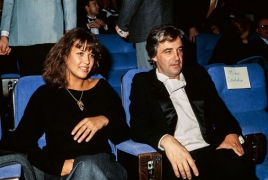 February 18, 2016 - 14:44 AMT
PanARMENIAN.Net - Polish art-house film director Andrzej Zulawski died on Wednesday, February 17 at the age of 75 after a long battle with cancer, his family said, according to AFP.
"My father died in the early hours of Wednesday, at a hospital in Poland. He had no chance of survival," his son and fellow director Xawery Zulawski told AFP.
"He had projects in the works but the choice had been made: death. He didn't fight it, he didn't want to fight it."
Xawery had posted on Facebook on Tuesday that Zulawski was "terminally ill with cancer".
The actor, writer and director of several French films had just released his last film Cosmos in 2015, which won him the best director award at the Locarno film festival in Switzerland.
Zulawski was "a very original artist, sometimes controversial but always true to himself", Polish Filmmakers Association president Jacek Bromski told Polish broadcaster Polsat.
Born in occupied Poland in 1940, Zulawski left for Paris at the age of five with his parents and later studied at the Sorbonne.
His films had a good dose of nihilism, savage eroticism and hopelessness, which he attributed in a 2004 Paris Match interview to being born during World War II.
"Going into the war my family numbered 40 people, afterwards there were three... My younger sister died of hunger," he told the magazine.
"As a kid I saw things that I never should have seen. It's undoubtedly what gave me the sense that every day is a miracle."
Zulawski is survived by three children, including a son with French actress Sophie Marceau. They separated in 2001.
"It's a huge loss for Polish and world cinema," Polish film critic Janusz Wroblewski told AFP.
"His films are considered cinema classics, but at the time they were avant-garde," he said of the director of "The Third Part of the Night" (1971) and "The Devil" (1972).
"He was provocative, breaking many Polish stereotypes and introducing eroticism in his films."