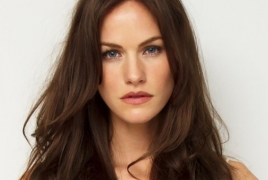 February 18, 2016 - 15:56 AMT
PanARMENIAN.Net - Syfy has found an actress to topline its female-led "Van Helsing" series. Kelly Overton, who had a recurring role as werewolf Rikki Naylor on "True Blood", has been cast in the lead role for the upcoming 13-episode TV series, AceShowbiz reports.
Overton will portray Vanessa Helsing, the central character on the new series, who is a descendent of the Van Helsing lineage of warriors. She is resurrected and now must lead ankind against a world controlled by vampires in the post-Rising landscape.
The show has also cast Jonathan Scarfe ("Hell on Wheels") as Axel, a career Marine with unwavering devotion and loyalty to both duty and his wards. Christopher Heyerdahl ("True Blood") will play Sam, a survivor of the vampire Rising.
Paul Johansson ("Mad Men") is Dimitri, the patient and calculating leader of the vampires. David Cubitt ("Ray Donovan") is cast as John, another survivor of the vampire Rising. Tim Guinee ("The Good Wife"), meanwhile, will play Ted, a vampire foot soldier.
"We've been extremely blessed to get such a wonderfully talented and diverse cast for Van Helsing", says EP and showrunner Neil LaBute. "We have an amazing lead actress in Kelly Overton and we've built a brilliant supporting cast around her. I'm very excited to begin the journey of Van Helsing with this outstanding group of actors."
Filming will begin in Vancouver on February 22 for a premiere in the fall.