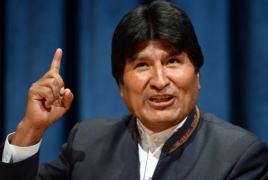 February 22, 2016 - 08:16 AMT
PanARMENIAN.Net - President Evo Morales of Bolivia has narrowly lost a referendum to allow him to stand for a fourth term in office, exit polls suggest, according to BBC News.
One poll suggests 52.3% voted against the proposal to amend the constitution, while another suggests it was 51%.
The change would have let Morales, who says he needs more time for reforms, remain in power until 2025.
Opposition supporters have been celebrating the referendum result in parts of the main city, La Paz Morales, an indigenous Aymara and former coca leaf producer, took office in January 2006. The president's current term ends in 2020.
Vice-President Alvaro Garcia Linera urged people to wait for the official results.
"Opinion polls, especially exit polls, make mistakes," he told reporters. "They don't take into account the vote abroad. They don't go to the more remote locations, where there is more support for our socialist movement. It's highly likely that the numbers shown by the opinion polls will be very different from the reality."
Vote counting has been slower than usual. The electoral authorities say the delay is affecting mostly ballots from rural areas, which largely support the president.
In the eastern province of Santa Cruz, angry voters set fire to ballot papers and ballot boxes after a delay to the opening of several polling stations.