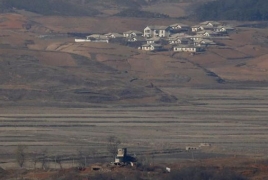 February 23, 2016 - 15:32 AMT
PanARMENIAN.Net - Washington and Seoul have postponed talks on deploying an advanced missile defense system opposed by Beijing, South Korea's defense ministry said Tuesday, February 23 as China's foreign minister was set to discuss North Korea with his U.S. counterpart, AFP says.
The allies had been set to sign an agreement Tuesday on setting up a joint working group to look into the roll-out of the Terminal High Altitude Area Defence System (THAAD) against North Korea's growing missile threat.
"The related accord is in the final stages but has been postponed by a day or two because of last-minute negotiations," ministry spokesman Moon Sang-Gyun said.
The THAAD system fires anti-ballistic missiles into the sky to smash into enemy missiles either inside or outside the Earth's atmosphere during their final flight phase.
The interceptor missiles carry no warheads, instead relying on kinetic energy to destroy their targets, AFP reports.
More than two weeks ago, the allies announced their intention to begin talks on its deployment following Pyongyang's long-range ballistic missile launch on February 7 but negotiations to launch the Joint Working Group were protracted.
China opposes the proposed deployment of THAAD, with foreign ministry spokeswoman Hua Chunying warning Monday that it should not be used as a front to "undermine China's own legitimate (security) interests."
South Korea's defense ministry reiterated Tuesday that the U.S. missile defense system only targets North Korea and that its deployment is an issue between the two allies.