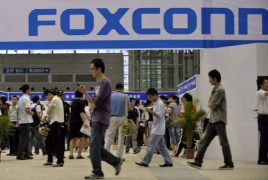 February 25, 2016 - 11:34 AMT
PanARMENIAN.Net - Struggling Japanese electronics giant Sharp says it has accepted a $4.3bn takeover bid by Taiwanese multinational Foxconn. The announcement came as Sharp's board completed a two-day meeting to discuss competing takeover offers, BBC News reports.
Foxconn assembles most of the world's iPhones. Sharp is one of Japan's oldest technology firms.
It is the first foreign takeover of a major Japanese electronics firm in a historically insular technology sector.
Japanese officials had been reluctant to let Sharp fall under foreign ownership because the distinctive technology behind its display panels.
Founded in 1912, innovations by Sharp include a mechanical pencil in 1915 and pioneering developments in television engineering.
Although recent years have seen a downturn in its fortunes with heavy debts, the firm continued to be a leader in liquid display technology, a key asset for Foxconn.
Shares in Sharp, which employs more than 50,000 globally, have been issued to Hon Hai Precision Industry Company, also known as Foxconn Technology Group.
After Sharp's shares were halted from trade pending the announcement, they later continued to trade under the name Sharp Corporation and were down as much as 20% at one point in Tokyo trade.
It initially offered about $5.3bn to take over Sharp before raising its offer to $5.9bn. The $4.3bn buyout represents the acquisition of two thirds of its shares.
Technology specialists said the firms would likely work well together on a global platform.
"Sharp is strong in research and development, while Hon Hai knows how to market products to customers such as Apple, and it also has expertise in production. Together they can go global," AFP quoted Yukihiko Nakata, a technology professor and former Sharp engineer as saying.
Earlier this month, as it was considering several takeover offers, Sharp posted a bigger-than-expected net loss of $918mln for the April-to-December period. In 2012, the firm came close to entering bankruptcy. It has struggled with heavy debts and has been through two major bailouts in the last four years. Foxconn first offered to invest in the troubled Japanese firm in 2012, but talks collapsed.