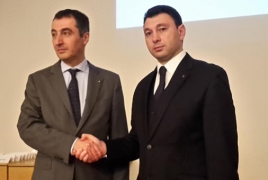 February 26, 2016 - 17:20 AMT
PanARMENIAN.Net - Deputy Speaker of Armenia's National Assembly Eduard Sharmazanov met on Thursday, February 25 with the Chairman of Germany's Alliance 90/The Greens Cem Ozdemir, who authored the resolution on the Armenian Genocide.
The German Bundestag held a debate on the Armenian Genocide Thursday, February 25 and decided to postpone the vote for the new Armenian Genocide bill proposed by the Alliance 90/The Greens political party. The ruling coalition said it's not the proper time to adopt the bill and proposed to continue the discussions in the coming weeks to prepare a new finalized document by April 24, 2016.
At the meeting, the Armenian official hailed Ozdemir's stance on the Genocide, also stressing the need for the condemnation of crimes against humanity by both the Bundestag and the international community.
The parties agreed that the German parliament's discussion of the issue is a pledge of the Bundestag's inevitable condemnation.
Addressing the Bundestag Thursday, Ozdemir said "the authorities have no common stance on the issue out of the fear to irritate Erdogan. "I don't understand why we cannot vote for this bill. We should do that for the simple reason of clearing our conscience," he said.
The bill noted that "the German Bundestag bows to the victims of forced displacement and massacre of the Armenians and Aramaeans, Assyrians and other Christian minorities of the Ottoman Empire, which began 100 years ago. It deplored the actions of the then Turkish government, almost full annihilation of the Armenians in the Ottoman Empire.
The resolution noted that "the fate of the Armenians stands as exemplary in the history of mass exterminations, ethnic cleansing, deportations and yes, genocide, which marked the 20th century in such a terrible way." German President Joachim Gauck used the same wording as he addressed a commemoration ceremony on the eve of the centennial of the Armenian Genocide.