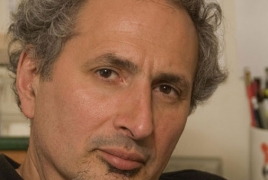 March 1, 2016 - 08:33 AMT
PanARMENIAN.Net - On April 18, award-winning poet and critic Peter Balakian will give a Center for Advanced Study (CAS)/MillerComm lecture on "The Armenian Genocide, Poetry of Witness, and Postmemory" at the Spurlock Museum Auditorium located on the campus of the University of Illinois at Urbana-Champaign, according to Asbarez.
The past year has marked the centenary of the Armenian Genocide. In this presentation, Peter Balakian will ask how literature can witness and commemorate historical trauma. He will begin by discussing the impact of the Armenian genocide on several major Armenian poets of the 1915 generation. Considering the genocide's impact on his own poetry, Balakian will then reflect on how the trauma of 1915 has echoed across generations and emerged as a version of postmemory—the belated remembrance of the victims' descendants.
Balakian is the Donald M. and Constance H. Rebar Professor at Colgate University. His new books are Ozone Journal and Vise and Shadow: Essays on the Lyric Imagination, Poetry, Art, and Culture both from the University of Chicago Press. His books of prose include Black Dog of Fate: An American Son Uncovers His Armenian Past, which won the 1998 PEN/Martha Albrand Prize for the Art of the Memoir, and was a best book of the year for the New York Times, the LA Times, and Publisher's Weekly, and The Burning Tigris: The Armenian Genocide and America's Response, which won the 2005 Raphael Lemkin Prize and was a New York Times Notable Book and a New York Times Best Seller. His translation of Grigoris Balakian's Armenian Golgotha: A Memoir of the Armenian Genocide was a Washington Post book of the year.
Balakian is the recipient of many awards and prizes and civic citations including a Movses Khorenatsi Medal from the Republic of Armenia, a Guggenheim Fellowship, a National Endowment for the Arts Fellowship, The Spendlove Prize for Social Justice, Tolerance, and Diplomacy (recipients include President Carter), and The Emily Clark Balch Prize for poetry from the Virginia Quarterly Review. He has appeared widely on national television and radio (60 Minutes, ABC World News Tonight, PBS, Charlie Rose, CNN, C-SPAN, NPR, Fresh Air, etc), and his work has been translated into a dozen languages and foreign editions including Armenian, Arabic, Bulgarian, French, Dutch, Greek, German, Hebrew, Russian, Serbo-Croation, Spanish, and Turkish.