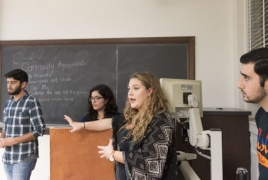 March 4, 2016 - 09:07 AMT
PanARMENIAN.Net - Undergraduate student government bodies at both the University of California, San Diego (UCSD) and the University of California, Santa Barbara (UCSB) overwhelmingly voted to divest more than $74 million of University of California bonds and investments in the Republic of Turkey for its continuous denial and perpetuation of the Armenian Genocide.
UCSD and UCSB, within an hour of one another, became the seventh and eighth UC campuses to pass this resolution, respectively, the Armenian Weekly reports.
"[Genocide denial] is a heinous act that aims to degrade the experience of a whole people and ethnicity," said Seda Byurat, chairperson of the Armenian Genocide Centennial Committee (AGCC) at UCSD, during her presentation to the Associated Students government body.
"We need to act as Armenian Diasporans and use the resources that we have as college students to do something. It is our duty as diasporans to fight for our global Armenian community," said Sose Abraamyan, vice-president of UCSB's Armenian Students' Association. "I'm so proud of our divestment team at UCSB, but also the Armenian Youth Federation [AYF] and All-Armenian Student Association for giving us this opportunity."
These resolutions are part of a larger initiative called #DivestTurkey, which calls on all institutions to divest from the Republic of Turkey until Armenian Genocide justice is realized. The initiative is spearheaded by the Armenian Youth Federation Western United States, which is a grassroots community organization dedicated to social justice and empowerment of youth, the All-Armenian Student Association, campus Armenian Students' Associations, and other local activists.
AYF Central Executive chairperson Gev Iskajyan stated, "The #DivestTurkey initiative began in order to connect and provide resources for university students and activists on campuses across America to divest all holdings in the Republic of Turkey's government until reparations for the Armenian Genocide are met and until genocide is no longer a profitable venture."
Within 13 months, undergraduate student government bodies at UC Los Angeles, Berkeley, Irvine, Davis, Riverside, Santa Cruz, San Diego, and Santa Barbara, and the UC Student Association, the official voice of more than 240,000 undergraduate, graduate, and professional students, have passed official resolutions calling on the UC to divest all financial holdings in the Republic of Turkey immediately and refrain from making any further investments in the Republic of Turkey in order to remove the UC's complicity in the perpetuation of the Armenian Genocide.
"The AYF plans to continue building on the momentum of the #DivestTurkey initiative, working with colleges and universities in order to introduce similar resolutions in the coming weeks and months," said Iskajyan.