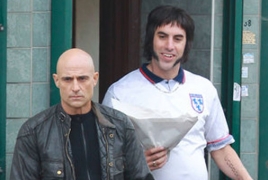 March 4, 2016 - 11:35 AMT
PanARMENIAN.Net - Sacha Baron Cohen may have done some controversial things for his movies in the past but he's gotten Sony worried this time. The studio's execs are reportedly afraid of a potential blowback from Donald Trump after the Republican presidential candidate is portrayed AIDS-stricken in "The Brothers Grimsby", AceShowbiz reports.
Cohen star takes a role as Nobby Butcher, the dimwitted brother of an MI6 secret agent who is in the middle of saving the world from a massive global terror attack. Some media and people, including the Kardashians, have viewed the pic. The action comedy reportedly is as vulgar, offensive and irreverent as Cohen's other films like "Ali G" and "Borat".
According to some sources, the aforementioned scene occurs in the film's end credits. Trump contracts the HIV virus after accidentally swallowing the blood of Harry Potter actor Daniel Radcliffe, played by a double, who contracted the virus earlier in the film. The Telegraph reported that the Queen of England was originally intended to be the victim but it was considered too offensive and was later replaced by Trump.
Rumor has it, the scene drew an uproar and loud cheering at the film's premiere in U.K., even drawing standing ovations across Europe. The studio included a disclaimer to explain that Trump was not involved in the movie but Cohen reportedly has the final say on the movie's cut.
Despite the report about Sony pushing the actor to cut the scene off, Jean Guerin, a spokeswoman for Sony, denied the story. "The report of a dispute with the filmmaker is absolutely ridiculous. We are 100 percent supportive of the filmmaker and the film," Guerin told Huffington Post.
"The Brothers Grimsby" hits theaters March 11 but traditional marketing campaign for the film in the U.S. such as billboards, TV and digital advertising are almost nonexistent.