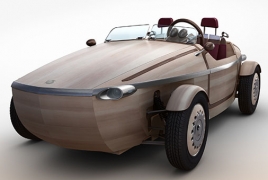 March 7, 2016 - 17:37 AMT
PanARMENIAN.Net - Toyota will reveal its newest concept car, a roadster called Setsuna, at the Milan Design Week. The electric car is made of wood, the Christian Science Monitor said.
The car's name, Setsuna, means "moment" in Japanese, and refers to the fleeting relationship between humans and material things, like cars.
Setsuna was designed by Toyota's chief engineer Kenji Tsuji and a designer, Kota Nezu. The two had previously partnered to create Toyota's Camatte.
The car's shape is reminiscent of an Italian speedboat. Its curves and smooth lines are the product of a special Japanese construction technique called "okuriari." This technique uses no nails or screws to join body pieces, but instead relies on the way the wood is shaped to hold the piece together.
According to Setsuna's designers, the company chose the wood in the car's frame with the future in mind. The vehicle's frame is made from Japanese birch, and its exterior panelling is made from Japanese cedar. The floor is crafted from Japanese zelkova elm, the seats from castor oil tree wood, and the instrument panel from cyprus.
While not for sale, Toyota hopes to learn from this design, "to collect feedback from a wide range of people – including experts such as cutting-edge designers and creators," according to Toyota spokeswoman Leela McMullen, "as well as the general public – and maybe even use the results in developing future vehicles."