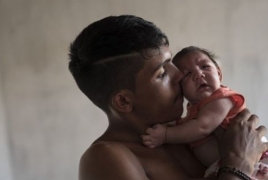 March 9, 2016 - 14:02 AMT
PanARMENIAN.Net - Microcephaly is "now only one of several" birth abnormalities associated with the Zika virus, Margaret Chan, director-general of the World Health Organization, said during a press conference Tuesday, March 8, the Verge reports.
Fetal death, placental insufficiency, fetal growth retardation, and injury to a fetus' central nervous system are all associated with the virus. "We can now conclude that Zika virus is neurotrophic — preferentially affecting tissues in the brain and brain stem of the developing fetus," Chan said, before cautioning that proving a link between Zika and these birth defects will take more research.
In addition, reports from several countries suggest that sexual transmission of the virus "is more common than previously assumed," Chan said. This statement comes on the heels of a CDC announcement in late February, which revealed that health officials were investigating 14 potential cases of sexually transmitted Zika in the US.
In most cases, the Zika virus isn't dangerous. Only 1 out of every 5 infected persons will go on to develop symptoms, which are similar to the flu and last about a week. There's no vaccine or treatment for the Zika virus, however, which is concerning given that Zika has been linked to microcephaly — a birth defect that causes children to be born with abnormally small heads — as well as Guillain-Barré Syndrome, a severe neurological disorder that can cause temporary paralysis in people of all ages.
So far, an increase in microcephaly has been in only documented in two countries, French Polynesia and Brazil, Chan said. "However, intense surveillance for fetal abnormalities is currently underway in countries like Colombia."