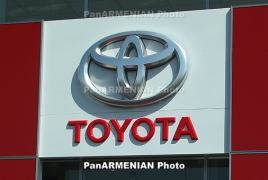 March 11, 2016 - 10:41 AMT
PanARMENIAN.Net - Toyota Motor Corp. has recruited the staff at a small Massachusetts-based autonomous-vehicle company to work on its advanced projects, the Wall Street Journal said.
Toyota hired Jaybridge Robotics Inc.'s 16 employees, including software and hardware engineers. Jaybridge Chief Executive Jeremy Brown said in a news release its staff will help the Japanese auto giant "reduce the nearly 1.25 million traffic fatalities each year."
Executives weren't immediately available to comment. It was unclear if Jaybridge, a seven-year-old company that spun out of Massachusetts Institute of Technology, will continue to operate. Toyota said it didn't buy the company. Jaybridge employees will become part of the Toyota Research Institute.
Toyota last year pledged to invest $1 billion into artificial intelligence research, with a big focus on autonomous vehicles. TRI is run by Gill Pratt, a former MIT professor and program manager at the Defense Advanced Research Projects Agency. With the latest hirings, TRI now has about 40 employees, many of whom are graduates of MIT and Stanford University.