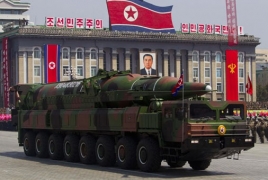 March 18, 2016 - 10:51 AMT
PanARMENIAN.Net - North Korea defied UN resolutions by firing a medium-range ballistic missile into the sea on Friday, March 18, Seoul and Washington officials said, days after its leader Kim Jong Un ordered weapons tests linked to its pursuit of a long-range nuclear missile capable of reaching the U.S. mainland, the Associated Press reports.
South Korea's Joint Chiefs of Staff said in a statement that the missile fired from a site north of Pyongyang flew about 800 kilometers before crashing off the North's east coast.
The Joint Chiefs of Staff said it wasn't known what type of missile was fired, but a South Korean defense official, requesting anonymity citing department rules, said it is the first medium-range missile launched by the North since April 2014 when it fired two.
A senior U.S. defense official said the Pentagon can confirm the missile launch, saying it appears to be a Rodong missile fired from a road-mobile launcher. The official said the test violated multiple UN Security Council resolutions that ban North Korea from engaging in any ballistic and nuclear activities. The official spoke on condition of anonymity because he was not authorized to discuss the matter publicly.
South Korea's Joint Chiefs of Staff said later Friday its surveillance equipment detected the trajectory of a suspected second missile fired from a site where the North's confirmed first launch occurred. A Joint Chiefs of Staff statement said the object later disappeared from South Korean radar at an altitude of 17 kilometers and that it was trying to find out if a missile had been fired or something else was captured by the radar.
Friday's launch came as North Korea reacts to ongoing annual South Korean-U.S. military drills that it sees as an invasion rehearsal. The drills are the largest ever, in response to the North's nuclear test and long-range rocket launch earlier this year.