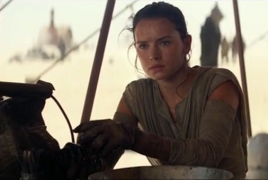 March 21, 2016 - 10:06 AMT
PanARMENIAN.Net - "Star Wars: The Force Awakens" came out a big winner at 2016 Jameson Empire Awards. The sci-fi blockbuster went into the Sunday, March 20 event with nine nominations and went home with five of them, AceShowbiz reports.
The film's lead stars Daisy Ridley and John Boyega each won a nod for the best newcomer. She said in her acceptance speech that it was "an amazing time to be a woman in film" while Boyega said it had no benefit to complain about the lack of roles for black and minority ethnic actors. The film was later honored with Best Sci-fi/Fantasy, Best Visual Effects and Best Director for J.J. Abrams.
Also a big winner this year was "Mad Max: Fury Road" which took home a total of four nods. The action flick starring Charlize Theron was recognized for Best Make-Up, Best Costumes, Best Soundtrack and Best Production Design. Nevertheless, it was "The Revenant" that won the Best Film Award.
Additionally, Matt Damon picked up the Best Actor award for "The Martian" and he was on hand to accept the trophy. His "Bourne" director Paul Greengrass handed him the award and the actor was delighted because he didn't know that Greengrass would be there.
The ceremony, which was held in London, was hosted by writer and comedian David Walliams.