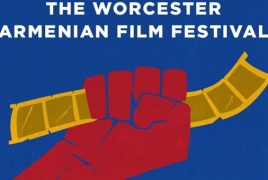 March 21, 2016 - 10:18 AMT
PanARMENIAN.Net - The third annual Worcester Armenian Film Festival will take place on April 2, at Worcester State University, the Armenian Weekly reports.
The festival will begin with a short film by Talin Avakian titled "Two Tales of a City." This is the third year a film by Avakian, a Worcester native, will be shown at the festival. Each film has touched on different journeys in Western Armenia. Avakian's latest film is focused on the city of Diyarbakir.
Filmmaker Eric Nazarian, director of the upcoming film adaptation of Chris Bohjalian's bestselling novel "The Sandcastle Girls", will discuss the history of Armenian cinema to the present time, and the landmark masterpieces and evolution of Soviet cinema. He will then present three personal narrative films for discussion.
Nazarian will present "I Hate Dogs" by Suzanne Khardalian, a film about one of the last survivors of the Armenian Genocide residing in France. In addition, he will show "The Last Tightrope Dancer" by Inna Sahakyan and Arman Yeritsyan. The film tells the story of Zhora, 78 years old, and Knyaz, 77 years old, who were once the most celebrated tightrope dancers in Armenia. Finally, Armen Khachatryan's "RETURN or WE EXIST 2" follows the lives of members of an Armenian family from the Sasun region, and their continued ties to the village of their birth.