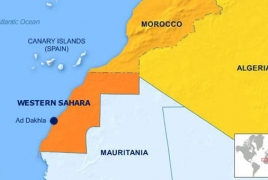 March 23, 2016 - 10:55 AMT
PanARMENIAN.Net - The United Nations said Tuesday, March 22 it has closed a military liaison office in the disputed Western Sahara after Morocco gave the UN observers there 72 hours to leave to protest remarks by UN Secretary-General Ban Ki-moon, the Associated Press reports.
It follows Morocco's expulsion of 84 international civilian staff members with the UN peacekeeping mission to protest the UN chief's use of the word "occupation" in describing the status of the vast mineral-rich territory during his first visit earlier this month to refugee camps in Algeria for the Sahrawis, as the region's native inhabitants are known.
Morocco has been controlling Western Sahara, a former Spanish colony, since 1975, having fought a local independence movement called the Polisario Front until the UN brokered a ceasefire in 1991, which the peacekeeping force has been monitoring.
Morocco considers Western Sahara as its "southern provinces" and has proposed wide-ranging autonomy for the region, but the Polisario Front insists on self-determination through a referendum for the local population — as called for in UN resolutions. This hasn't occurred because of disputes over voter lists.
UN deputy spokesman Farhan Haq said the Dakhla liaison office was closed Monday and the three military observers stationed there were relocated to the UN site in Awsard, also in territory controlled by Morocco.
Secretary-General Ban and Security Council discussed Western Sahara at their monthly lunch on Monday.
"It's clear that the members of the Security Council appreciate the seriousness of this, and it's clear that they understand the need to support the work and the mandate of U.N. peacekeeping missions," Haq said. "We've been waiting for some time to see what the united response of the council will be."
Read also:Western Sahara pro-independence rebels warn of war if UN leaves