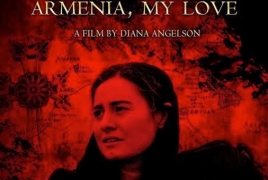 March 23, 2016 - 11:22 AMT
PanARMENIAN.Net - "Armenia, My Love," a gripping drama based on real life events that occurred during the tragic Armenian Genocide of 1915, has secured a limited Los Angeles theatrical release at two prestigious Laemmle Theaters beginning on Friday, April 15, Pasadena Independent reports.
In Pasadena, the film will screen at the Laemmle Playhouse 7. Concurrently, "Armenia, My Love" will screen at the Laemmle NoHo 7 in North Hollywood.
Under the multi-talented hands of Romanian American director Diana Angelson, who also stars in and wrote the screenplay, "Armenia, My Love" revolves around the plight of a once happy Armenian family, living in Turkey in 1915, whose dreams for the future become memories in the eyes of the most famous Armenian American artist, who lives to paint the story of his shattered childhood.
"Armenia My Love" does expose the harsh realities faced by the entire Armenian people who were violently ripped from their homeland," said Angelson who felt compelled to produce this film by her many Armenian friends and connections and the powerful story they had to share. "It is "Armenia, My Love's" strong messages of hope, love, faith, perseverance and strength that I wanted to prevail."
Angelson was chosen by Ruben Vardanyan's 100 Lives Foundation, whose co-chair is George Clooney, as one of the people that commemorated the Genocide in a special way.