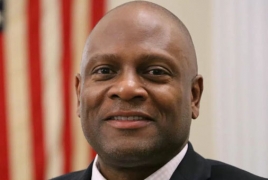 March 24, 2016 - 12:37 AMT
PanARMENIAN.Net - Thursday, March 24 is the final day that Douglas Brooks serves at the head of the White House's Office of National AIDS Policy, a position that has garnered little press in an era when HIV is no longer seen as a certain and impending death sentence, Time said.
Brooks, who served in the position for two years and will be replaced in the interim by senior policy advisor Amy Lansky, was the third person to hold this post in Obama's administration and the ninth ever. He is the first openly gay, HIV-positive African American to have the job.
During his tenure, Brooks worked to train the spotlight on people with demographic characteristics like his, who are at a much higher risk of contracting HIV. While the rates of transmission have fallen since their peak in the 1980s, young black gay and bisexual men are heavily affected by the disease. The rate of new infections among this group rose 20% between 2008 and 2010; while 13% of the U.S. population is black, more than one-third of gay and bisexual men who contracted HIV in 2010 were.
Brooks says he is chiefly proud of the revisions made to the National HIV/AIDS Strategy that Obama updated to the year 2020, setting out guiding principles and goals. It emphasizes that "HIV does not impact all Americans equally," mentioning young people and racial minorities as well as groups such as transgender women, who sometimes turn to sex work after struggling with finding employment.